Untuk pics individu setiap peserta yang akan betanding di Konsert Prelude Akademi Fantasia, sila ke [klubbkidd's rave]-The fotopages! Teruskan ngan voting/undian untuk [klubbkidd's rave] for Malaysian Topblogs bagi aku smangat sikit aku teruskan keja mengambil masa tak bergaji ni.

Aku upload 20 pic individu peserta ni dengan pertolongan member aku si Juan Danza dari URS
!(tima kasih daun keladi sunnel)!Sambung posting esok! Banyak pics dari Nokia aku aku nak kongsi ngan korang dari sesi press conference as well as sesi suai kenal ngan media gitu.
By the way...ni logo tuk AF III!



Yang pentingnya...memang sebelum ni aku dah sebut, aku ulang balik apa aku penah kata....aku feveret dah pilih! Masuk ke tak...no comment. But I hope he gets in...I'm talking about contestant Kuala Lumpur - 109 - Fuad Razlan Abdul Azri.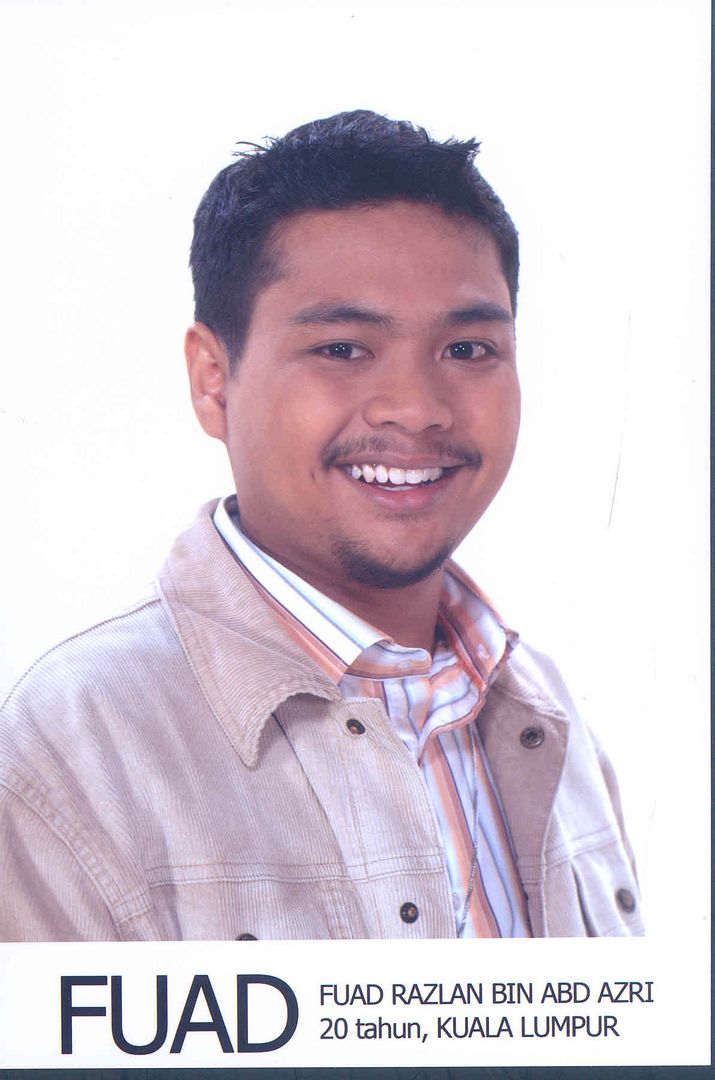 Kalau nak tau sesuatu...perasan tak pic Zahid yang lama? Yang promo tuk Akademi Fantasia masa mula dulu...tengok bawah kiri blog aku ada pic Zahid lama....sama konsep je adik Fuad ni. Baju kotak skali ngan jaket luar!
Si Fuad ni masa preview smalam...dahler masa diinterview Aznil, ngaku dia suka kat Zahid, pastu memang gaya persembahan dia ala ala The Orange One. Tapi bukan klon, just ala ala genre sama gitu. Sapa nampak audition dia, tau ler dia ni soulful gak, walaupun vocal tak meletup sangat. Tapi takder ler gak burok.
Anyway...the point is, I see enough similarities between him and Zahid to support him. Bukan sebab sokong dia kerana Zahid...tapi kerana suka kebolehan dia menguasai pentas dia macam Zahid which is I think such an asset. Yang lain pun bagus juga. Budak perempuan semua vocal power, tapi personality lacking sikit. The boys are all kuat dari semua segi, walaupun vocal kalah pada budak perempuan. But their uniqueness in every aspect memastikan it'll be a tight competition.
So to Reza (kira aku kenal dia gak ni)...as well as Felix, Haider...Mawi (gilaan Juan tu!)...good luck and you guys are my top six to move into Akademi Fantasia. Do your best guys!
More pics and info by noon...nak tidur sat....