Aiyooo..heated discussion pasal AIM ni.And I wasn't even around to read my blog after posting it.Thanks everyone for your comments. Apapun perbezaan pendapat kita, I suppose deep down all of us hope for the best for our ailing music industry in our own way.

Anyway, everyone had a good holiday tak? Aku smalam bosan gila tahap gaban, ikut Bob, Anding and Ikram for a staging of Tanggang kat Majlis Bandaraya Shah Alam sebab one of the actors, Along, artiste manager tuk Maestro. Sampai sana, si Mas pun da ada kat sana.


Yang gambar kenangan dirakamkan tu Bob, Anding dan Mas bersama Along, artiste manager tuk Maestro. Lain kali jumpa dia (dia bukan rambut panjang tau - tu wig) say laa hi.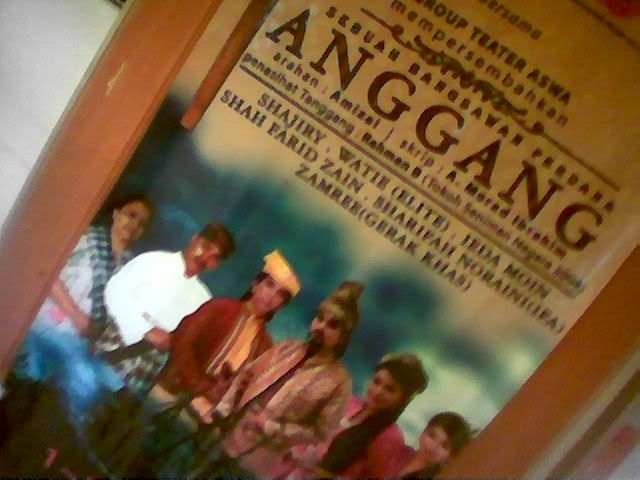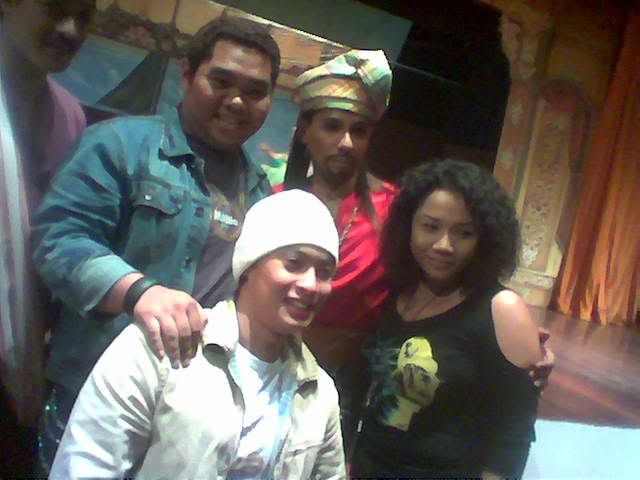 Tanggang is a classic, but I have to say that it was a horrendously classic bomb. Kantoi punya amateurish siot! Bayangkan ni...
The make-up was horrible, as were the costumes! The set and props seem to be falling apart! Bayangkan ada pertukaran scene tu, setakat menggerakkan pokok dari tepi stage ke tengah stage and that's it! In another scene, watak Kenangan dikasari and she falls again the tree and the tree lak nak tombang!
In the final babak lak...tengah baru nak suspen si Tanggang nak kena sumpah ngan Mak Utih, his mother which dia tak ngaku - backdrop belakang takder, so nampak the rest of the cast ulang alik kat belakang. If that's not bad...how about one of the pegawai istana yang pakai selipar jepun??? Masa nak bersilat, baru dia perasan, siap lari kuar stage tuk campak selipar dia away.
Adus!
It gets from bad to worse.The loose script...the bad acting (Watie Elite horrible gila! Cam permaisuri gansssss).Shajiry was decent in the lead of Tanggang...but the best ones were Zamree dari Gerak Khas and Along...
The production teruk sangat sampai bayangkan tengah one of the quieter scenes, musician leh tersepak instrument! And then in another quiet scene, siap dengar bunyi berdentum bila one of the backdrop jatuh!
The audience was horrible too.Tauler masuk pree...tapi ni bak budak-budak yang bising tak abih! And cell phones ringing away drove me nuts. Lum agi keperluan Strepsils satu malam oleh audience yang siap aku dengar sorang ni terbatuk sampai dengar bunyi kuarkan kahak! Yuck!
I don't go for many theatre productions (the last pun aku gi was one at the Esplanade in Singapore cause jarang ada pementasan yang menarik kat Istana Budaya, but I do sincerely love to see more local fare.Teater bangsawan I think is underappreciated....and aku nak expose myself more to it....but I hope that future ones I'm going to won't be as bad as this.