Yeah! Korang mungkin perasan, entry the past week semua dah ada gambar mana aku earlier indicated akan letak.

Aku punya card reader masih missing in action, so petang tadi pakai laptop, guna infrared, satu-satu transfer. Jenuh aku nak transfer amik masa sejam!

Anyway, at least both my blog, and also my fotopages dah updated.

By the way, aku terjumpa pic ni yang aku amik masa gi makan ngan Bob kat KLCC a couple of weeks ago. Kelakar! Penah tak dengar air Michael Jackson??? Jangan berpikiran lucah lak!

Rupanya, soya cincau laa....black and white laa kiranya...member aku kata harus laa budak lelaki je suka....siot jek lawak!


Air Michael Jackson di KLCC!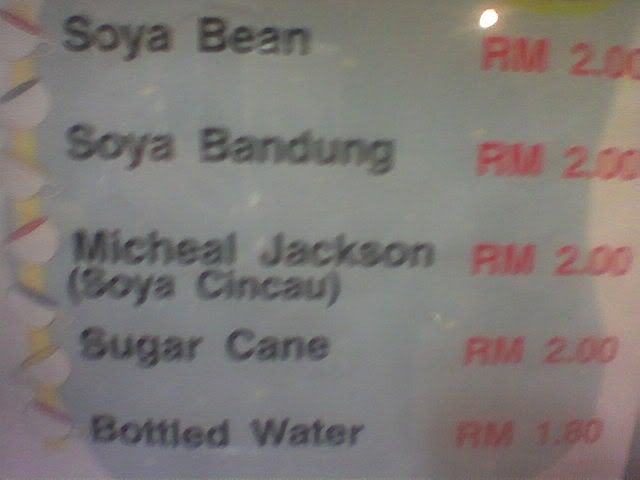 Pada peminat-peminat Akademi Fantasia seperti biasa (walaupun dah lama aku tak update), gambar-gambar tertunggak (cam bila air lak), jangan lupa check out my Akademi Fantasia related pics at
[klubbkidd's rave]-The fotopages!
- the extension of my blog yang da UPDATED ari ni dan of course jangan lupa, keep
voting/undi
[klubbkidd's rave] tau for Malaysian Topblogs.
Also updated (rajin ni!) is the clubbing (dah nama pun klubbkidd kan) and culture in Kuala Lumpur links section terletak di bahagian kanan bawah (that's the lower left of my blog). A comprehensive collection of links of where to go and what to do in Kuala Lumpur.
I've also updated the links for blogger friends.Let me know kalau awak nak saya masukkan blog awak skali dalam senarai links saya ek....
Bye all...