Tak post panjang ari ni. Ni la muka-muka mereka yang layak bertanding di Konsert Prelude Akademi Fantasia Sabtu ni.

Gambar-gambar ni exclusive kepada The Malay Mail dan telah keluar paper ari ni dalam exclusive introduction gitu.

Sori aku terpaksa melambatkan sebab budak-budak ni check out Holiday Villa ari ni - dan juga paper kena keluar dulu...Apapun...still one of the first kan tuk pamerkanpic mereka....So ok ler tuh... Ingat, pics ni juga berada dalam [klubbkidd's rave]-The fotopages! - yag semuanya pasal Akademi Fantasia je. Teruskan ngan voting/undian untuk [klubbkidd's rave] tau for Malaysian Topblogs.

Sambung posting esok! Esok kedua puluh mereka akan diperkenalkan pada media dalam press conference di Hilton Sentral. More pics tomorrow...

Ni muka-muka bakal keluarga Akademi Fantasia III
Beramah mesra!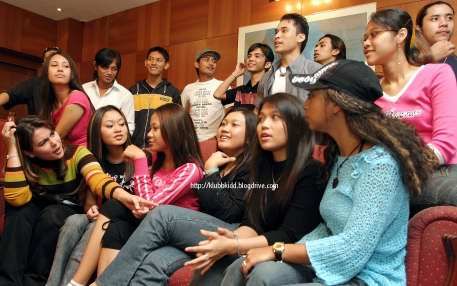 Tengah dengar briefing.